Youth Sailing Program
Online Registration will open for GRYC members on March 1st 2019, and for non-members on March 10th 2019. Registration is available at https://zone4.ca/reg.asp?id=20554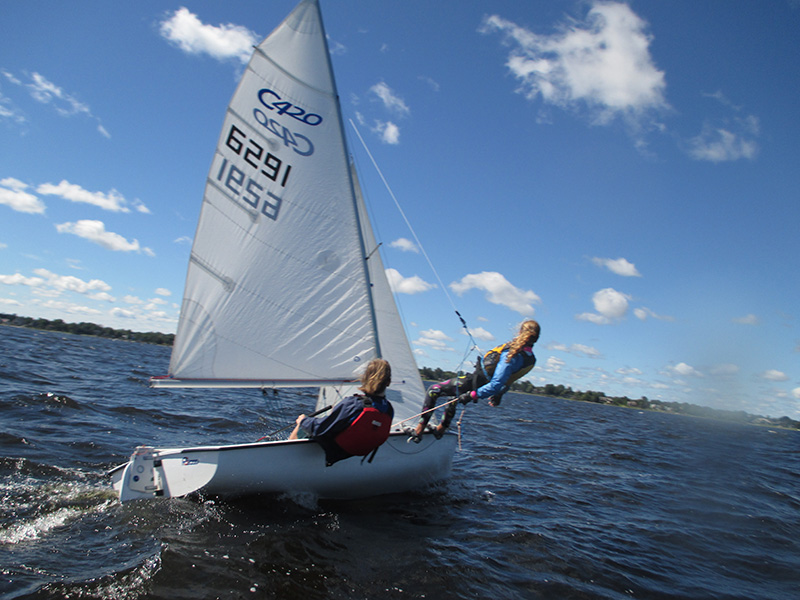 Junior Program Fees – 2019
For two week sessions:
Members $500, Non-Members $640
For Canskills one week session:
Members $250, Non-Members $320

2019 Session Dates are as follows:
Canskills 1 week kick-off session – June 24th -28th
Session 1 July 1st-12th
Session 2 July 15th-26th
Session 3 July 29th– 9th
Session 4 August 12th-23rd

About the Program
The GRYC sailing camp provides busy, fun-filled, days outdoors, focused on sailing instruction, aquatic games and camp activities.
Arrival and boat rigging begin at 9 am. Morning instruction takes place from 9 am to 12 noon. Lunch is supervised and includes games. Afternoon classes run from 1:00 to 4:00 pm. Supervised childcare is offered from 8:00 – 9:00 am and from 4:00 – 5:30 pm at an additional cost of $50 per session, instructor lead games and activities will be run during this time.
New for 2019: We will be offering a more structured race program with and co-ordinated participation in several key regattas. This will be indicated as 'Race Team' on the registration form, and the suggested minimum commitment for this option is six weeks of camp.

Sailing Instruction and Swimming Activities:
Sail Canada certifications are the standards used at the GRYC. Sailing levels include CANSail 1, 2, 3, and 4.

During a typical camp day, sailing sessions are interspersed with land games, crafts, aquatic games, free swim and water safety activities. Regardless of swimming competence all campers wear life jackets while on the docks and while in the boats. Water safety is a priority. All children are expected to adhere to the safety rules presented by camp staff.
Please see a sailing camp video (https://www.youtube.com/watch?v=tVSzc7nwsYw) created by one of our instructors Gabe Sanchez. The video is a montage of the activities at the GRYC sailing camp during the summer of 2019, including daily activities, races, and training events.
Ages/Eligibility:
Children, ages 9-16 (child must be 9 years old as of July 1, 2019). Campers must have achieved a swimming level equivalent to Level 6 in the Red Cross swimming program or Level 3 in the Royal life program.
Royal Lifesaving Swimming:
www.lifesavingwa.com.au/swim-and-survive/programs/swim-and-survive/levels
Red Cross Swimming Levels:
www.redcross.ca/cmslib/general/ws_enrolling_new_participants_rcswim_en_07.pdf
Hours of Supervision:
Participants under 14 years of age must be dropped off and picked up by a parent/adult (over 16) and signed in/out at the Clubhouse. Scheduled activity hours are from 9:00 a.m. to 4:00 p.m.
For those children that require it, extended care is available from 8:00 to 9:00 am and from 4:00 to 5:30 pm.
The Instructors/Supervisors:
We employ fully qualified sailing instructors with NLS water safety certification.
The GRYC Youth Program is supervised by a Program Manager, bringing a greater level of experience to and support for Sailing Camp staff.
Swimming instruction is not offered. Instead, sailing sessions will be interspersed with fun-filled outdoor island games, crafts, aquatic games, free swim and water safety activities.
For more information on what we teach please see CANSail Program Information.
Registration
On-line registration is now available. March 1st for Members and returning students. General public can register starting March 10. Please click on link: https://zone4.ca/reg.asp?id=20554
and click "Add Person".
If you have any questions or concerns please email the Junior Program at youthprogram@gryc.ca or by mail at:
Gatineau River Yacht Club
Box 1766
Chelsea, Qc
J9B 1A
Attention: 2019 Youth Program
Paid registrations will be transferable to other sessions subject to availability and will be refundable up to one month prior to the session, less the $100 deposit fee.
At the end of each session, participants and their parents will be asked to complete a camp evaluation form.
Further questions should be directed to youthregistrar@gryc.ca
Important to remember:
• ALL children under the age of 14 must be accompanied by an adult, except children attending the Sailing Camp when they are supervised by camp staff. Member's children on the island without parental/guardian supervision MUST be 14 years or older.
• Participants under 14 years of age must be dropped off and picked up by a parent/adult (over 16) and signed in/out. During pick up/drop off, parents are encouraged to greet staff and check updates on the Daily Activity Board.
• The maximum number of campers on the island is between 25 and 30 with a maximum of 32 per session. (GRYC maintains a 1:5 supervision ratio)