With an increase in vaccinations and the decline in active Covid cases, we're fortunate to be in Phase 2 of our 2021 reopening plan. The table below shows the current status of various facilities and activities. Please remain vigilant with distancing and hygiene protocols and remember to sign-in when you visit the island. There is a sign-in book just outside the clubhouse. We do not want to risk going backwards.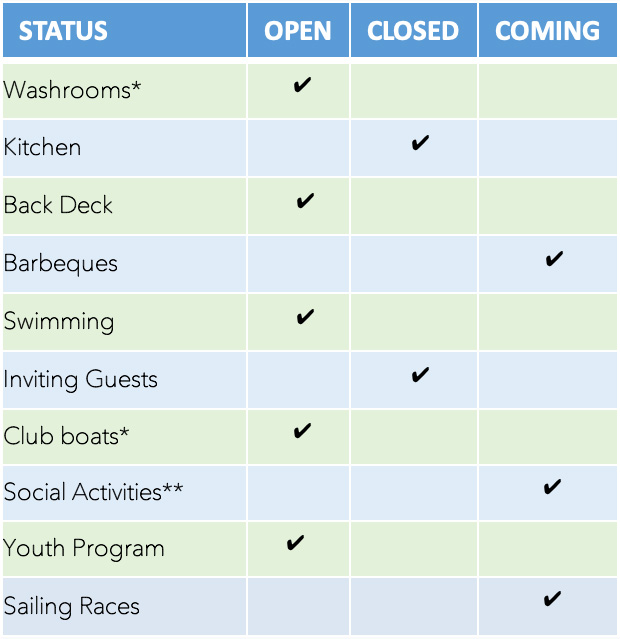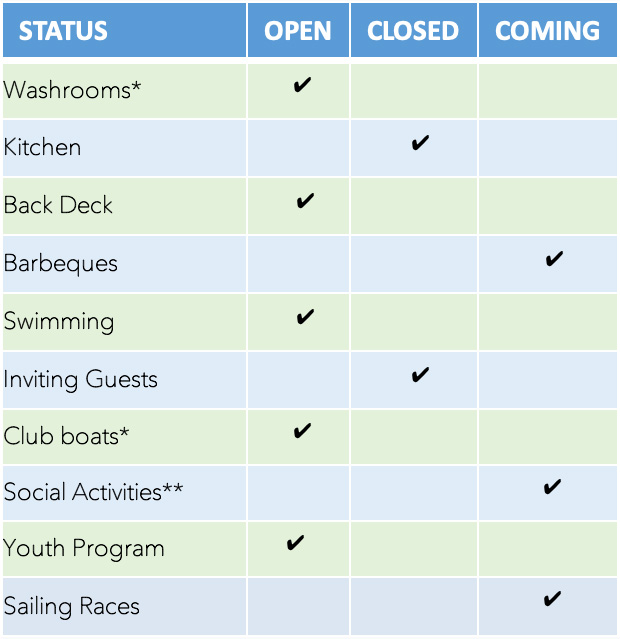 * Guidelines for washroom and boat use will be posted in appropriate locations
 ** Our social calendar will be modified with fun activities that follow health guidelines

Important documents
2021 COVID Code of Conduct
COVID poster
Catwalk traffic

Volunteering
Although we've waived the mandatory volunteering requirement for this season, there will still be critical items that need upkeep and repair. We will need your help. We ask for your cooperation in stepping up if you can when volunteer opportunities are posted. As always, we rely on your help to ensure a successful season.     

Key reminders
– Don't forget to familiarize yourself with the 2021 COVID Code of Conduct
– Please do not invite guests to the Islands until further notice 
– Children 14 and under must be accompanied by an adult member
– Please be courteous to our Summerlea neighbours when walking/biking/driving/parking 
– Boats and paddle boards must be registered and placed in the assigned location
– The Club continues its carry-on, carry-off policy, please take everything home with you
– Dogs are not permitted on the Island, except when travelling (on a leash) with owners to a boat
– If you previously changed your membership to retaining, you can always switch back.  

Have a question? Need help? Reach out. Luke Brimacombe, GRYC's Rear Commodore is the single point of contact for fielding your questions. He is the liaison between GRYC members and the Board. Email Luke.