Allan Richens Memorial Fund
About Allan
On December 31, 2012 we lost the last surviving founding member of the GRYC. Allan was an extraordinary man. Over 50 years, he was an avid supporter of our club. He was also widely recognized by the Municipality and the community as a leader of a broad range of community service activities.
Allan visited the club daily to swim off what we have affectionately named "Richens Point". Many miss his tall figure and amiable smile walking along the catwalk as we prepared to sail or on returning after a race.
Successive generations who'll sail and enjoy our island paradise should know their enjoyment wouldn't have been possible without Allan's vision.
You can read Allan's obituary further down this page.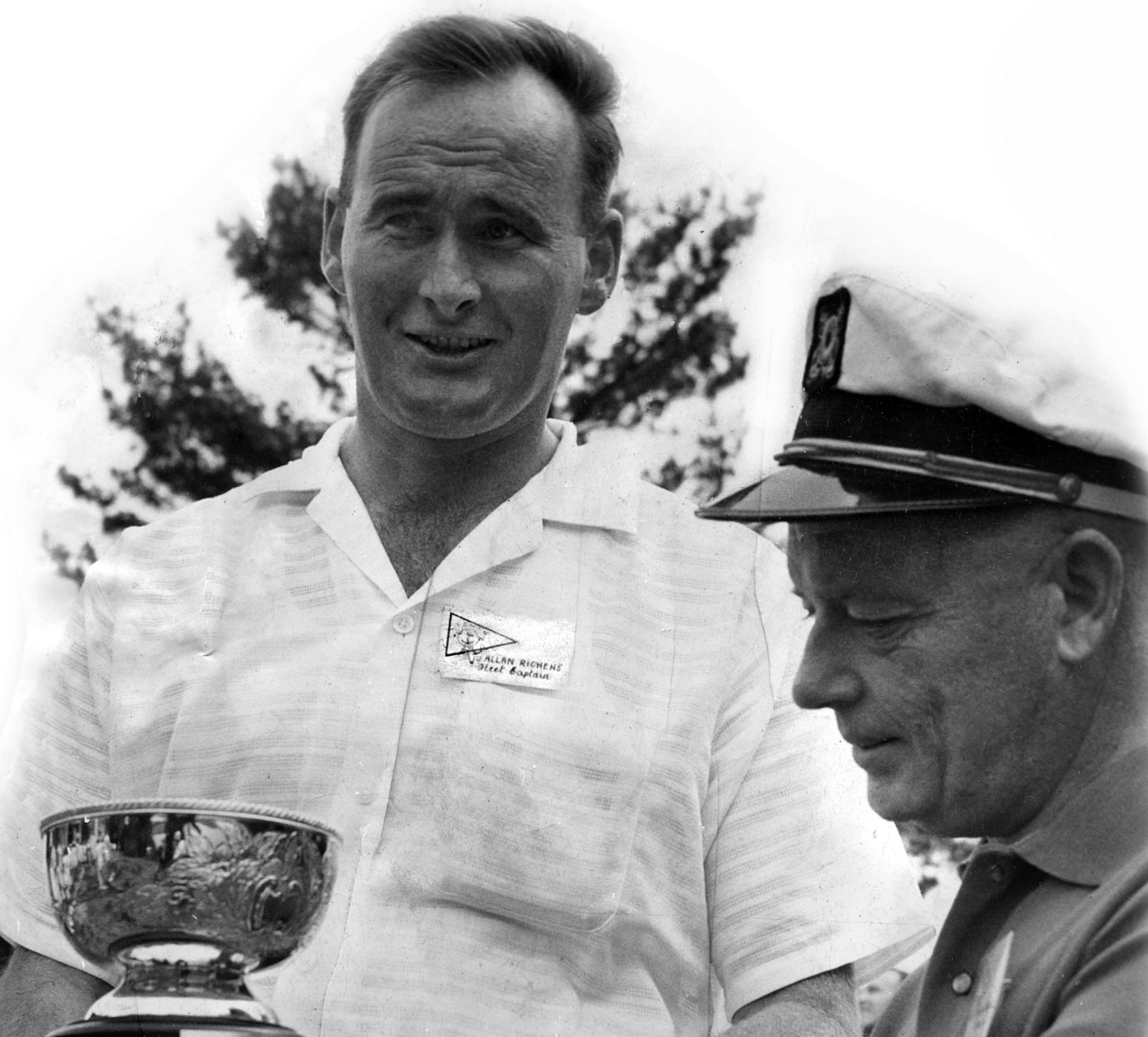 In consultation with his family we set up a permanent memorial fund. It's dedicated to providing youth sailing bursaries to deserving young people sailing in our Junior Program. Also, for supporting our increasingly successful Youth Racing Team. We fundraise through annual appeals and events. Please donate generously. Your recognition is cumulative over time. So, we encourage you to donate annually and move your recognition to the next level.
Payment
Send a cheque to:
GRYC (ARMF) Box 1766, Chelsea QC J9B 1A1
or
Send an e-transfer to:
accounts@gryc.ca (include a note indicating that your funds are for the ARMF).
Recognition
All who donate less than $50 are listed a Companion of the Fund
All who donate $50 are listed as a Friend of the Fund
All who donate $100 are listed as a Silver-level Friend of the Fund
All donate $250 are listed as a Gold-level Friend of the Fund
All who donate $500 are listed as a Platinum-level Friend of the Fund
All who donate $1000 are listed as a Diamond-level Friend of the Fund
Although GRYC is a non-profit organization, it is not a registered charity. Therefore, donations are not eligible for tax receipts.
Donors list
As of October, 2020. We're grateful for those that contribute by planning and hosting ARMF fundraising events. The donation of time is also highly valued and acknowledged. Many thanks to all of our generous donors.
Donation
Donor Level
Donors

---

$1000 & above
Diamond Friend
Joyce Richens
Richard Oslund (estate)
Ian Tamblyn & Amanda Shaughnessy

---

$500 to $999
Platinum Friend
Jack DesBrisay & Barbara Schultz
Jennifer & Janet Richens

---

$250 to $499
Gold Friend
Simone Choy
Andrea Lockwood & Yves Menard
Keith & Jane Horner
The Newing Family
Marie Schingh & Waren Place
Bruce & Sandy Lorimer
John Catching

---

$100 to $249
Silver Friend
Heather Gilmour & Stephen Wolfe
Barbara Martin
Sean & Christine Payne
Patricia Black
Seymour Hamilton
Louis Gaetan & Suzanne Lalonde
Brenda Wachmann
Malcom McHattie & Isabelle Roberge
Robert Atkinson & Sue Goodson
Alain & Johannes Godbout
Richard Yeo & Pat Curry
Phillip Davies & Nicole Thibault

---

$50 to $99
Friend
Trice Cameron
Noha Fuad
James Hargreaves & Line Boyer
Iain MacGillivray & Margreet
Vandenberg
Theo Burtick
David Raymond

---

$1 to $49
Companion
Aidan O'Neill
Margot & James Grimes
Gord Hill & Denise Workun-Hill
Kevin Jones
Eric & Christine Bertram
Patrick Karpat

---
James Allan Richens
Allan had many interests in life, primarily centred on the outdoors. His career choices reflected that beginning with the Royal Canadian Navy, followed by pioneering days in aerial photography and subsequently in the then emerging technology of stereo photogrammetry with the National Research Council. He was on the team that developed the camera at the end of the CanadArm for the US Space Shuttle program.
He was an avid sailor, and was a founding member of the Gatineau River Yacht Club in 1962 set two small islands at Gleneagle, Quebec. He could often be seen circumnavigating the islands with his characteristic, rhythmic breaststroke; most recently in September of this year. He was an accomplished skier, both alpine and cross-country and could be seen cutting an elegant figure at Camp Fortune on his 220cm telemark skis long after the world had gone to shorter, more sophisticated equipment. Cross country skiing remained his winter pastime and he would regularly ski more than 20 km per day. He was well known in the Gatineau Park, including by the NCC who he felt needed to be kept on their toes. He wanted to ensure the old trails in the Park were not forgotten and had Watsford's Look Out restored for all to enjoy. In the summer and autumn he led hikes along the old pathways and delighted participants with the stories of the families who had lived on the land prior to the creation of the Park. He was an active member of the Gatineau Historical Society and a regular contributor to the local newspaper, the Low Down to Hull and Back. Allan took up golfing on retirement and went on to be a mainstay of the senior men's team at Larrimac Golf Club. He often represented the Club at local tournaments and was particularly proud of breaking par at the Old Course at the Royal and Ancient Club, St. Andrew's, Scotland.
He retired early and enjoyed it shamelessly; rotating between Canada, Florida and England to capture the best points of the seasons. He loved being outside and passed that onto his children and grandchildren. He was also very community-minded. He was a municipal councillor, school board member, active in the Legion both here and abroad and a driving force behind the highly entertaining reunions of the Association of Aerial Surveyors.
Allan was an active, healthy, vital man until laid low by a rare fungal infection in late November. While he rallied and was well on the way to recovery, he was unable to fight off a secondary infection. His passing was unexpected. He is much loved and remembered by Joyce, his wife of 57 years, his daughters Jennifer and Janet, his grandchildren James and Graeme, his sister Dorothy, his niece Ann Elisabeth, nephew Eric and the remaining family in England.