GRYC Invitational Regatta 2023 - August 4-6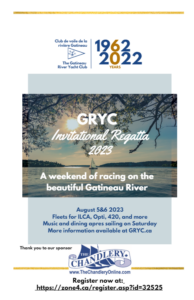 Online registration is now closed. Last-minute registration may be permitted on-site, subject to limitations.
See the 2023 Invitational Regatta page for current information including Sailing Instructions and Race Results.
If you have a question that is not answered in the NOR or SI's you can send your questions regatta@gryc.ca or speak to a GRYC Regatta official on the island.
The River Rats race team is offering boat cleaning services to members.
For cabin boats, thorough deck cleaning will be $60, and interior + deck cleaning will be $120. Additional services may be offered.
Please contact youthprogram@gryc.ca